NHL Buzz: Hischier returns to practice with Devils
Barkov out for Panthers against Oilers; Fox skates with Rangers; Hurricanes release Halak from PTO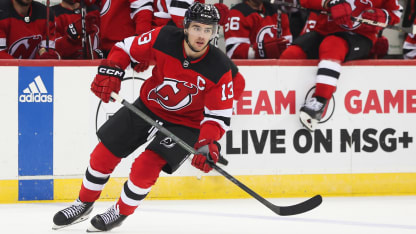 Welcome to the NHL Buzz. Each day during the regular season, NHL.com has you covered with all the latest news.
New Jersey Devils
Nico Hischier returned to practice Monday for the first time since sustaining an upper-body injury Oct. 27.
The center had been skating on his own for the past week.
"It was good to see him out there," coach Lindy Ruff said. "It gave the guys a little bit of renewed energy just seeing Nico. We hope to see him again at practice tomorrow but I don't really have a timeline. ... We'll see how practice goes."
Hischier was injured during a 5-4 win against the Buffalo Sabres when he took a high hit from Sabres defenseman Connor Clifton along the boards at 16:00 of the first period. The Devils captain played the second period but did not play in the third.
Hischier has missed nine games. Clifton was suspended two games by the NHL Department of Player Safety for an illegal check to the head
Hischier has scored two goals in seven games this season. The Devils are 4-5-0 without him. They next play at the Detroit Red Wings on Wednesday. -- Mike G. Morreale, staff writer
Florida Panthers
Aleksander Barkov was unavailable when the Panthers hosted the Edmonton Oilers on Monday.
The center had to be assisted off the ice early in the third period of a 2-1 win against the Anaheim Ducks on Friday after colliding with defenseman Jackson LaCombe.
Florida coach Paul Maurice said Barkov has an apparent knee injury and that there was soft-tissue damage.
Barkov has not been placed on injured reserve. The Panthers will continue to monitor the injury.
"We will list him as day to day as we are still looking at him," Maurice said Sunday. -- George Richards
New York Rangers
Adam Fox took part in the morning skate wearing a no-contact jersey, continuing his recovery from a lower-body injury sustained Nov. 2.
It was the second straight day the defenseman skated.
Fox is with the Rangers for their three-game road trip, which started at the Dallas Stars on Monday.
"I think it's just the next step," coach Peter Laviolette said. "It's a chance to work with him. We're here, so to bring him on the road and get him some extra work off the ice and on the ice, I think that's important in the progression."
Though Fox is making progress, Laviolette would not give a timetable for when he could play again. Fox was placed on long-term injured reserve Nov. 3, meaning he'd have to be out a minimum of 10 games and 24 days, so the soonest he could play would be at Detroit on Nov. 29.
"I'd stay away from commenting because I think there's a progression that goes with players," Laviolette said Sunday. "It's positive that he's gotten some skates, it's positive that he's out there with some players, and you hope you continue to see him progress. But I'm going to stay away from timetables."
The Rangers are 4-0-1 without Fox. -- Taylor Baird
Edmonton Oilers
Calvin Pickard played an NHL game for the first time in nearly 20 months when he started for the Oilers against the Panthers on Monday.
The 31-year-old goalie hadn't played in the League since March 27, 2022, when he was with the Red Wings. Pickard was recalled from Bakersfield of the American Hockey League on Nov. 7. Stuart Skinner started the previous six games.
"You have to take advantage of the practice days and morning skates as well, just in case you are called upon," Pickard said Sunday. "I have faced a lot of rubber in practice and that is good. I have been up here for 10 days and have a lot of solid practice. I am excited to get in there when the opportunity arises."
Oilers coach Kris Knoblauch said he had no concerns about Pickard being overwhelmed by the moment. Pickard entered with 116 games of NHL experience with the Colorado Avalanche, Toronto Maple Leafs, Philadelphia Flyers, Arizona Coyotes and Red Wings.
"It is not like nerves are going to get to him, he is not going to get the jitters," Knoblauch said Monday. "He has been through this many times before with many teams. We need two solid goaltenders."
Pickard was 2-2-0 with a 2.03 goals-against average and .939 save percentage in four AHL games this season. -- George Richards
Carolina Hurricanes
Jaroslav Halak has been released from his professional tryout contract (PTO).
The 38-year-old goalie had been with the Hurricanes since Nov. 6, the same day Carolina announced goalie Frederik Andersen would be out indefinitely because of a blood-clotting issue.
"He went back home," Hurricanes coach Rod Brind'Amour said. "I think it [the decision] was actually more on his side. It was a mutual kind of thing, but I think it's a tough spot to be for him. It's just tough at the end of the road there to kind of make those type of decisions, family and everything, so he's not here anymore."
In the five games without Andersen, Antti Raanta has started three games and Pyotr Kochetkov has started two.
Halak was 10-9-5 with a 2.72 GAA and .915 save percentage in 25 games with the Rangers last season.
Kochetkov missed practice Monday, but Brind'Amour said it wasn't a concern since Carolina doesn't play again until Wednesday against Edmonton.
"Just giving [him] another day," he said. "We've got some time here, and obviously we want to make sure we're taking real good care of the two we have at the moment. Anytime you give a little breather to someone who doesn't feel 100 percent, you want to be like, 'OK, we'll see you tomorrow.'" -- Kurt Dusterberg